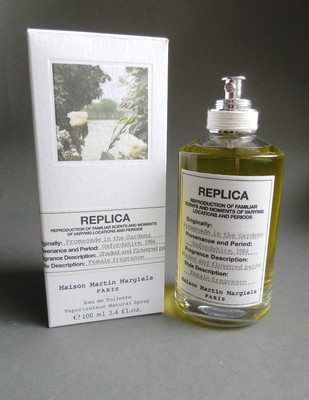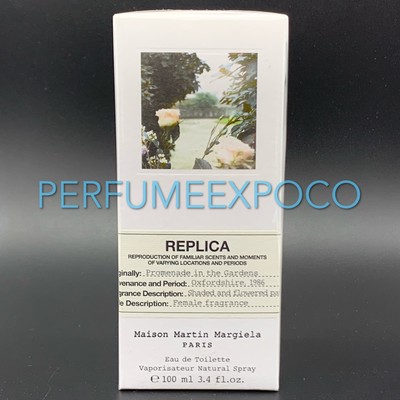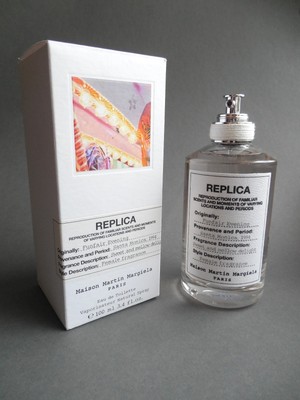 Maison Martin Margiela Replica - Promenade In The Gardens - 3.4fl oz/100ml (NIB)
We are searching over 15000 overseas shopping platforms to find you the best offers
* Marketplace & suppliers provide the information below, we have not verified its accuracies, but our algorithm will show you information with best relevancy
---
Shipping Calculation
The merchants does not provide enough weight & dimension data for us to estimate shipping cost
We are estimating the shipping weight and cost with our data of similar products in same category
Health & Beauty
>Fragrances
>Women's Fragrances
---
Cross-Border Shopping Tips
1. Merchant direct ship (via Best Offers above) is usually the cheapest & fastest way
2. If you are buying multiple quantities and/or merchant does not provide international shipping, then you should consider using a parcel forwarders (See our guide on parcel forwarder comparison)
3. Above methods sounds complicated? Then consider using Concierge Service (a hassle free all-inclusive service provided by many parcel forwarders) Or alternatively use our Comparee Checkout one-stop service
Still confused? Feel free to contact us or check our International shipping guide for more detail
Product Review
beta
We scanned through !num_productreview! top reviews of this products, this is how users evaluated this product & the most mentioned keywords
There is currently insufficient review data to generate insights for this product. But we will continue to collect data to provide you with the insights next time. You can also contribute to the community by sending us your review on this products
---
Product Description
Description - Sephora.com
Fragrance family: warm & spicy scent type: warm & sweet gourmands key notes: toffee apple, orange blossom infusion, caramel candy about: funfair evening is a warm and sweet gourmand fragrance that brings to mind a vibrant night air filled with the candy and laughter through indulgent notes of toffee apple and caramel candy. The sound of laughter and playful melodies invite you to enter this joyous funfair. Near the pacific, the warmth of a summer night's breeze shapes the perfect atmosphere for amusement games and sweets. Splashes of neon color break through a black velvet night sky; vibrant and explosive. Comforting, the balmy and indulgent scent of toffee apples and caramel candy create a night to remember. Funfair evening is a warm and sweet gourmand fragrance that evokes the sensation of amusement and pleasure. This playful and long-lasting fragrance resides within the replica memories collection a family of scents designed to evoke personal memories that each one of us can recall. Using the bottle's convenient no-cap pump, spray fragrance onto pulse points. To wardrobe your fragrance, layer replica filter blur convey a softer fantasy. Take your fragrance from day to night by layering replica filter glow to brighten and accentuate your fragrance. The silhouette of each replica bottle is inspired by classic apothecary jars, allowing the collection to be instantly identifiable. Each bottle carries a 100 percent cotton label, which is printed using black ink text and resembles the tags used on the clothing and accessories for the replica couture collection. The unique pumps are wrapped with a rope to symbolize the authentic reproduction of the original replica couture line. The same label concept is carried onto the packaging of each fragrance. Each carton label is associated with a polaroid photograph; a fleeting moment captured in muted colors and soft light a poetic allusion to the story behind each fragrance.
---
Product Specification
| | |
| --- | --- |
| Size | 3.4 Fl Oz 100 Ml |
| Brand | Maison Martin Margiela |
---
---
Additional details
Shoppers are interested in these features & tags
100ml
Beauty
Womens
How this is called in other regions?
Maison Martin Margiela Replica Fragrance - Market Flower - 3.4fl Oz100ml (Nib)
Maison Martin Margiela香水 - 花卉市場 - 3.4fl Oz100ml(Nib)
Fragancia de la reproducción de Maison Martin Margiela - mercado de la flor - 3.4fl Oz100ml (semilla)
MAISON MARGIELA 'REPLICA' Funfair Evening 3.4 oz/ 100 mL Eau de Toilette Spray
Maison Martin Margiela Replica - Promenade In The Gardens - 3.4fl Oz100ml (Nib)
Maison Martin Margiela Replica - Promenade In The Gardens - 3.4fl oz/100ml (NIB)
Maison Martin Margiela Replica Fragrance - Flower Market - 3.4fl Oz100ml (Nib)
Maison Martin Margiela Replica Fragrance- Funfair Evening - 3.4fl Oz100ml (Nib)
Maison Martin Margielaレプリカフレグランス - フラワーマーケット - 3.4fl Oz100ml(Nib)
Maison Martin Margiela香水 - 花卉市场 - 3.4fl Oz100ml(Nib)
Last update
Wed Jan 02 2019 08:27:45 GMT+0000 (UTC)
We help Singapore shoppers access products from United States, United Kingdom, Germany & Japan. Our team will share recommendation of high quality & unique products from the world, and where to find the best deals & discounts. We are a one-stop information & services platform, making price comparison and cross border shopping easy for you