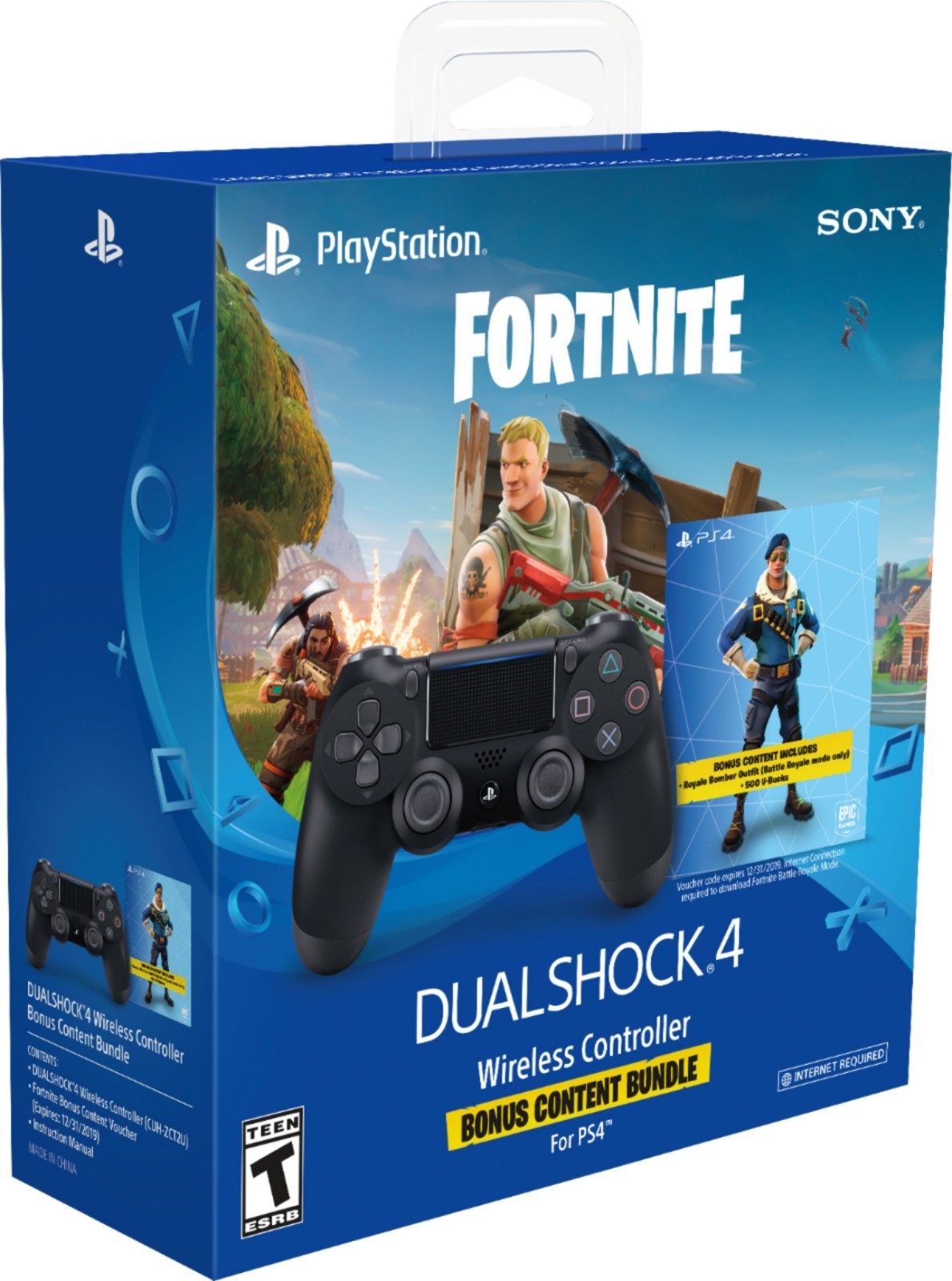 Sony Dualshock 4 Controller (New Version 2) - Black (Eu) Fortnite Dlcps4
Offers from merchants
Click the merchant offers below for the latest merchant discounted price & availability
Shipping Calculation
| | |
| --- | --- |
| Actual weight | 0.84 lb |
| Shipping weight | 1.05 lb |
| Volumetric weight | 1.05 lb |
| | |
| --- | --- |
| Length | 7.4 Inch |
| Height | 3.5 Inch |
| Width | 5.6 Inch |
Shipping cost is calculated using volumetric weight as it is higher than actual weight
Cross-Border Shopping Tips
1. Merchant direct ship (via Best Offers above) is usually the cheapest & fastest way
2. If you are buying multiple quantities and/or merchant does not provide international shipping, then you should consider using a parcel forwarders (See our guide on parcel forwarder comparison)
3. Above methods sounds complicated? Then consider using Concierge Service (a hassle free all-inclusive service provided by many parcel forwarders)

Or alternatively use our Comparee Checkout one-stop service
Still confused? Feel free to contact us or check our International shipping guide for more detail
Product Description
Description - Amazon
Join the battle with the fortnite bonus content bundle. Jump into the worldwide phenomenon fortnite with this dualshock4 wireless controller - fortnite bonus content bundle, featuring royale bomber outfit & 500 v-bucks to get you started.
dualshock 4
the dualshock4 wireless controller for playstation4 defines this generation of play, combining revolutionary features & comfort with intuitive, precision controls. Evolved analog sticks & trigger buttons allow for unparalleled accuracy with every move while innovative technologies offer exciting ways to experience your games & share your greatest moments.
Ports & Interfaces
-connectivity Technology: Wireless
-Device Interface: Bluetooth
-Bluetooth Version: 2.1+edr
Weight & Dimensions
-weight: 210 G
-Width: 162 Mm
-Depth: 98 Mm
-Height: 52 Mm
Input Device
-device Type: Gamepad
-Gaming Platforms Supported: Playstation 4
-Gaming Control Technology: Analogue Digital
-Gaming Control Function Keys: D-pad, Select, Start, Vibration Onoff
-Analog Thumbsticks: Y
-Shoulder Buttons: Y
-Built-in Touchpad: Y
Ergonomics
-product Colour: Black
Packaging Content
-batteries Included: Y
-Number Of Products Included: 1 Pc(s)
Battery
-number Of Batteries Supported: 1
-Built-in Battery: Y
-Rechargeable Battery: Y
-Battery Type: Lithium-ion (Li-ion)
Product Specification
| | |
| --- | --- |
| Brand | Sony |
| Model | 222866 |
| Product Type | Video game accessories |
| Manufacturer | Sony |
| Color | Black |
Product weight & dimension
Length
7.91 Inch
Height
6.97 Inch
Width
3.03 Inch
Weight
0.55 lb
Brand Information
Brand Value
The reputation and history of the brand according to brand reports
Social Media
Size of user community in social media platforms
Sales Volume
Sales volume in different online channels
Overall Score
Overall rating considering different factors
Additional details
Shoppers are interested in these features & tags
Analog
Analogue
Batteries
Battery
Black
Bluetooth
Built-in
Colour
Comfort
Digital
Gamepad
Li-ion
Light
Lithium-ion
Micro-usb
Platforms
Rechargeable
Video
Wireless
How this is called in other regions?
Controlador inalámbrico Fortnite Dualshock 4 Ps4
Fortnite Dualshock 4 Pengawal Tanpa Wayar Ps4
Fortnite Dualshock 4ワイヤレスコントローラPs4
Fortnite Dualshock 4无线控制器Ps4
Fortnite Dualshock 4無線控制器Ps4
(Ps4) Playstation 4 Dualshock 4 Black + Fortnite Dlc *New Sealed*
Fortnite Dualshock 4 Wireless Controller Ps4
Sony Dualshock 4 Controller (New Version 2) - Black (Eu) Fortnite Dlcps4
Sony Playstation Dualshock 4 Wireless Controller V2 Jet Black + Fortnite Dlc
Last update
Sat Jan 19 2019 19:51:07 GMT+0000 (UTC)
We help Singapore shoppers access products from United States, United Kingdom, Germany & Japan. Our team will share recommendation of high quality & unique products from the world, and where to find the best deals & discounts. We are a one-stop information & services platform, making price comparison and cross border shopping easy for you